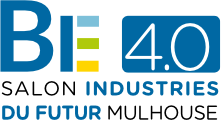 APREX SOLUTIONS sera présent au Salon de l'Industrie du Futur BE 4.0
STAND K-04
qui se tiendra les 19 & 20 Novembre 2019 Parc des Expo de Mulhouse.
Nous vous invitons à vous inscrire et à venir nous y rejoindre afin de parler de vos problématiques de contrôle qualité, de contrôle de procédé et de vision industrielle.
Situé au cœur du bassin industriel le plus dynamique d'Europe, à la croisée des 3 pays, le salon BE 4.0 accueille pendant 2 jours dirigeants, décideurs, cadres et ingénieurs mais aussi tous celles et ceux qui feront l'industrie de demain.
Orienté business, BE 4.0 rassemble les fleurons de l'industrie, les experts métiers et les startups pour vous donner l'opportunité de découvrir des solutions technologiques, des nouveautés, des innovations en matière de développement économique et de financements …
270 Entreprises, universités, pôles de compétitivité, institutionnels se rassemblent pour présenter les solutions qui « boostent » la transformation vers l'industrie 4.0.