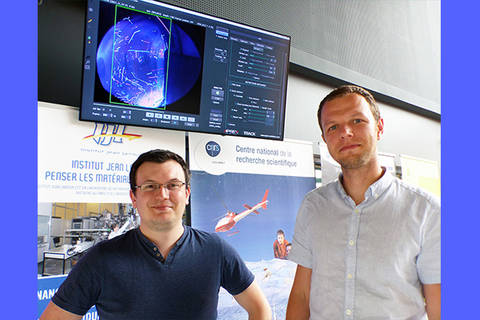 APREX Solutions, or how to make the most of technologies developed in the laboratory
Mikaël Désécures and Romain Baude set up their start-up APREX Solutions on the premises of the Institut Jean Lamour (IJL) in Nancy in April 2018. In the process, they won the Grand Est final of the Start-up Connexion competition, organised by CNRS, AEF and the National Network of Doctoral Colleges.

The choice of our laboratory was a natural one, given the proximity of our researchers and the desire to work with them. The software they have designed incorporates an algorithm developed at the IJL.
They wanted to make the use of this algorithm accessible within TRACK, an interactive and ergonomic software package that enables multiple structures to be detected and tracked on video in difficult imaging conditions. Applications include thermonuclear fusion and champagne production, to study the trajectory of bubbles in a glass.
Mikaël and Romain worked closely with their two scientific advisors, Frédéric Brochard and Jamal Bougdira, a researcher and teacher-researcher respectively at the IJL.
TRACK currently has around ten daily users in France, the United States, China and the Czech Republic, working on applications as varied as materials, fluid mechanics, metallurgy and biology. The two young entrepreneurs regularly visit laboratories to present their product to research teams.
They also have another project on the go, directly linked to Mikaël's thesis at the IJL on laser diode spectroscopy. The aim is to develop a device for measuring temperature and atomic density in the plasma phase.
Both PhDs in plasma physics, Mikaël and Romain met at a scientific conference in Nancy. Their expertise in instrumental development brought them together: "whatever instrument we use to retrieve information, we know how to process it". And they shared a common feeling: "we develop interesting technologies in the course of research projects, but they are not properly exploited". The Lorraine Incubator did the rest, and APREX Solutions was born in November 2017 after less than a year of gestation.
Their project won over the jury and the public at the Grand Est final of the Start-up Connexion competition, which took place in Strasbourg on 7 June 2018. "What appealed was our desire to exploit as much of the knowledge developed by researchers as possible". They were awarded a cheque for €6,000 and will be in the national final in Paris in November 2018.
The young company is also due to recruit a sales representative and a developer in the very near future, with a view in particular to prospecting the instrumentation sector.