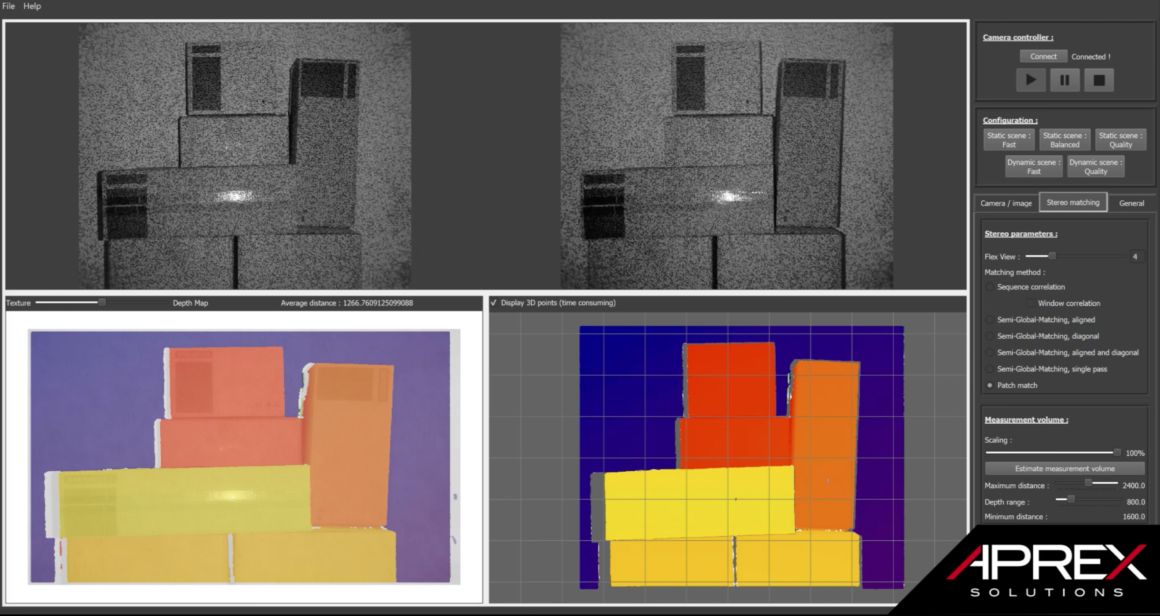 Our motivation is to make machine vision and object detection technologies ever more accessible. That's why our software suite is constantly being developed.
Today, our image analysis algorithms, using both standard and AI methods, are compatible with 3D vision systems.
A breakthrough that pushes back the limits of three-dimensional inspection and object positioning.
This will be of particular interest to integrators, whether they are robot manufacturers or installers. They will appreciate the ease with which our solution can be used and mastered, particularly for all unpacking, depalletising and picking operations.
The added value of APREX track 3D: high-precision detection
APREX track 3D simplifies your 3D vision process, by parameterising your specific application without a single line of code!
Its interface uses successive filters (calibration, pixel/mm scale, depth map, measurement detection (width, height), determination of capture coordinates, thresholding, segmentation, etc.) for high-precision detection and fast response times.
3D measurements can be used to guide robots with a resolution of the order of a millimetre.
Superimposing a 2D texture filter on 3D stereoscopic capture offers new possibilities for object segmentation using AI methods for even more precise targeting.
A privileged partnership with one of the leading manufacturers of 3D cameras, in particular the Ensenso IDS Imaging range based on the principle of spatial vision (stereovision), inspired by human vision. The cameras we use use the FlexView system, which enables several pairs of images with different textures to be recorded. The very large number of pixels captured in this way provides even greater resolution. The analysis of images with disparities and large point clouds is optimised. The result is greater detail and greater robustness of 3D data on difficult surfaces.
Like all our software tools, APREX track Vision (2D and 3D) has been designed for industry and with industry in mind.
Our aim is always to make things simple and easy, without compromising on performance.
Ready to add volume to your machine vision? Request a demo!