Avec plus de 40 000 km parcourus dans l'hexagone et en Europe pour visiter les sites industriels de nos clients dans le cadre de leur projet de vision, et pas moins de 6 salons professionnels en tant qu'exposant, on peut dire que chez APREX, nous avons à cœur de cultiver une approche terrain de proximité.
1. Les salons professionnels : rendez-vous privilégiés avec un public ciblé.
Quel salon pour quel objectif ?
Cette année, APREX Solutions a acté sa présence sur 6 salons significatifs.

Un premier semestre marqué par :

FIP - France Innovation Plasturgie / du 5 au 8 avril à Lyon
Nous y étions présents pour rencontrer les acteurs de la filière Plasturgie, Composites & Caoutchoucs en tant qu'affiliés à l'antenne Polyvia Grand Est (lien), dont nous sommes membre.
https://www.f-i-p.com/
Global Industrie / du 17 au 20 mai à Paris
Voir le site
Sepem Colmar / du 14 au 16 juin à Colmar
Au sein de l'espace communautaire des Offreurs de Solutions du Grand Est, en qualité de membre et labellisé Offreurs de Solutions Industrie du Futur. Voir le site
Dès septembre, nous poursuivrons avec :


Sido / les 14 et 15 septembre à Lyon
Affiliés sur l'espace Hub France IA dont nous sommes membres également
Voir le site


Salon Mesures Solutions Expo /
les 5 et 6 octobre à Lyon
Voir le site






BE 4.0 / les 29 et 30 novembre à Mulhouse
Affiliés sur l'espace Offreurs de Solutions du Grand Est
Voir le site
Cette sélection répond à un objectif de visibilité mixant visée régionale (SEPEM, BE 4.0), nationale, voire internationale (GI, FIP), et. Le choix d'un angle spécifique marché, comme cette année avec le FIP pour le secteur de la plasturgie, ou technique et innovation (SIDO, Salon Mesures Solutions Expo) apportent un éclairage de notre champ d'expertise adapté aux spécificités des différents marchés.
2. Les salons, un investissement important, pour quel bénéfice ?
On le sait, c'est indéniable, la présence sur un salon, c'est du temps, de l'énergie et de l'argent !
Entre l'habillage du stand, les supports de communication, la logistique et l'installation, les déplacements, la mobilisation d'une équipe sur place pendant plusieurs jours… le coût d'un stand représente un budget non négligeable. Alors qu'elle est la véritable valeur ajoutée de s'investir en tant qu'exposant sur ces événements ?
Se voir, pour mieux s'entendre sur votre projet de vision industrielle.
Plusieurs avantages porteurs :
Une antenne commerciale délocalisée pour recevoir nos clients et fournisseurs implantés dans d'autres régions que celles de nos antennes physiques, pour présenter nos produits, services et nouveautés. C'est un lieu et un moment privilégié pour y recevoir nos clients et partenaires.
Un outil pratique, pointu, de veille technologique et des tendances marché. L'exploration des stands de ces vitrines de l'industrie du futur permettent d'identifier les nouveautés : produits, matériaux, fournisseurs... et de rentrer en contact avec les particularités des moyens et des techniques de production, inhérentes à chaque segment industriel : métallurgie, mécanique, verrerie, textile, plasturgie…
L'opportunité de visiter la plus grande usine du monde et de rencontrer les donneurs d'ordre du monde entier :
LES SALONS EN CHIFFRES

GLOBAL INDUSTRIE : 100 000 m2 / 2300 exposants dont 40% d'internationaux / des visiteurs venus de 85 pays / 2500 machines en fonctionnement / 40 000 visiteurs
FIP : 10 000 visiteurs / 800 exposants
SEPEM Colmar : environ 350 exposants / 3000 visiteurs
SIDO Lyon : 250 exposants / 7000 visiteurs
Mesures Solutions Expo : 130 exposants / environ 2000 visiteurs
BE 4.0 : 270 exposants / 3300 visiteurs / 10 000 m2
Via la communication et les publications inhérentes à chaque salon.
Du fait des interactions inter-réseaux et les échanges avec les autres exposants des espaces mutualisés affiliés : Polyvia, Hub France IA, COS…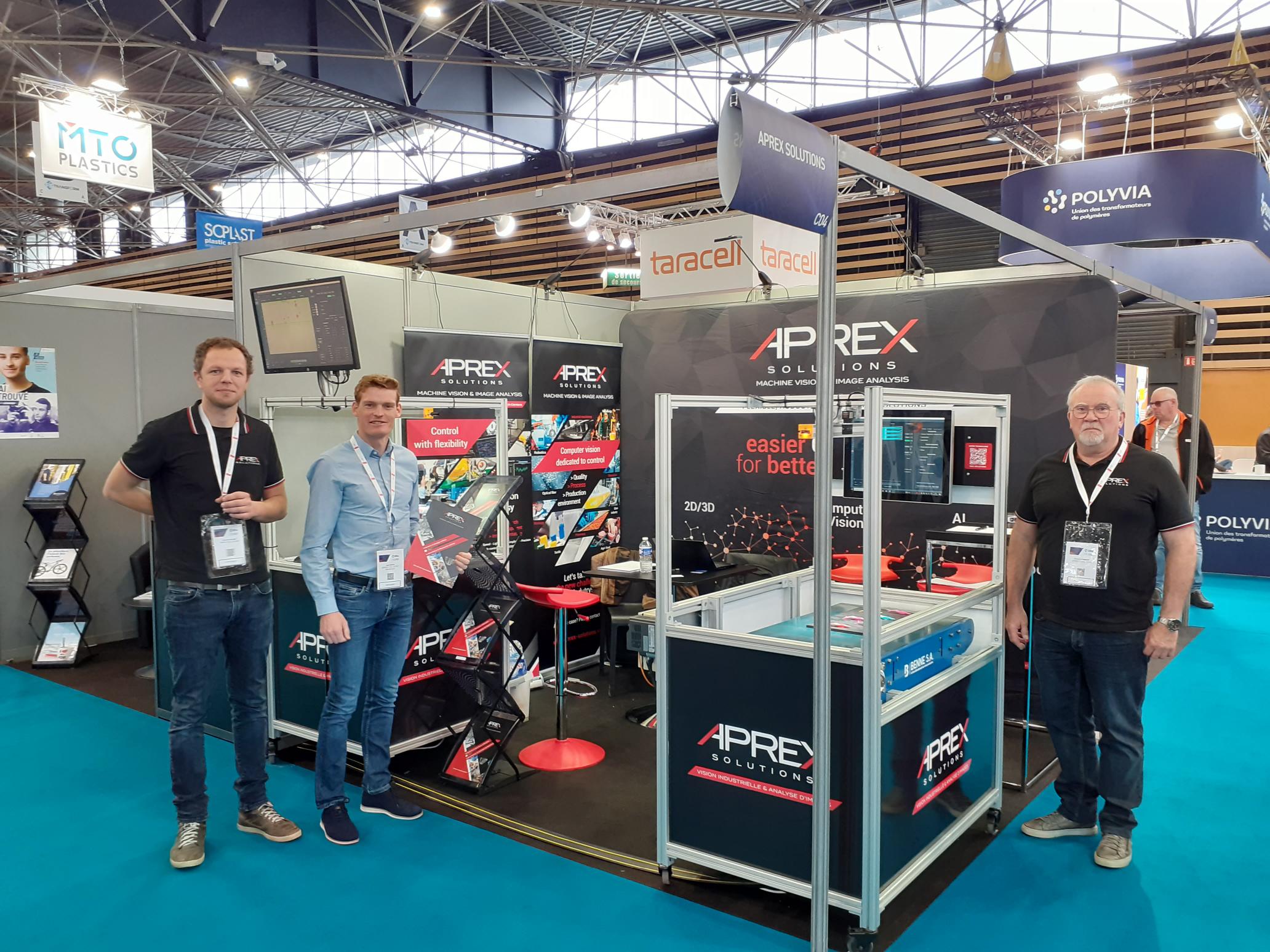 Grâce aux moments forts de représentation ou de reconnaissance que ces réseaux initient, et sur lesquels nous avons été invités à apporter notre contribution :
"Comment bénéficier du potentiel technologique de la recherche publique ?"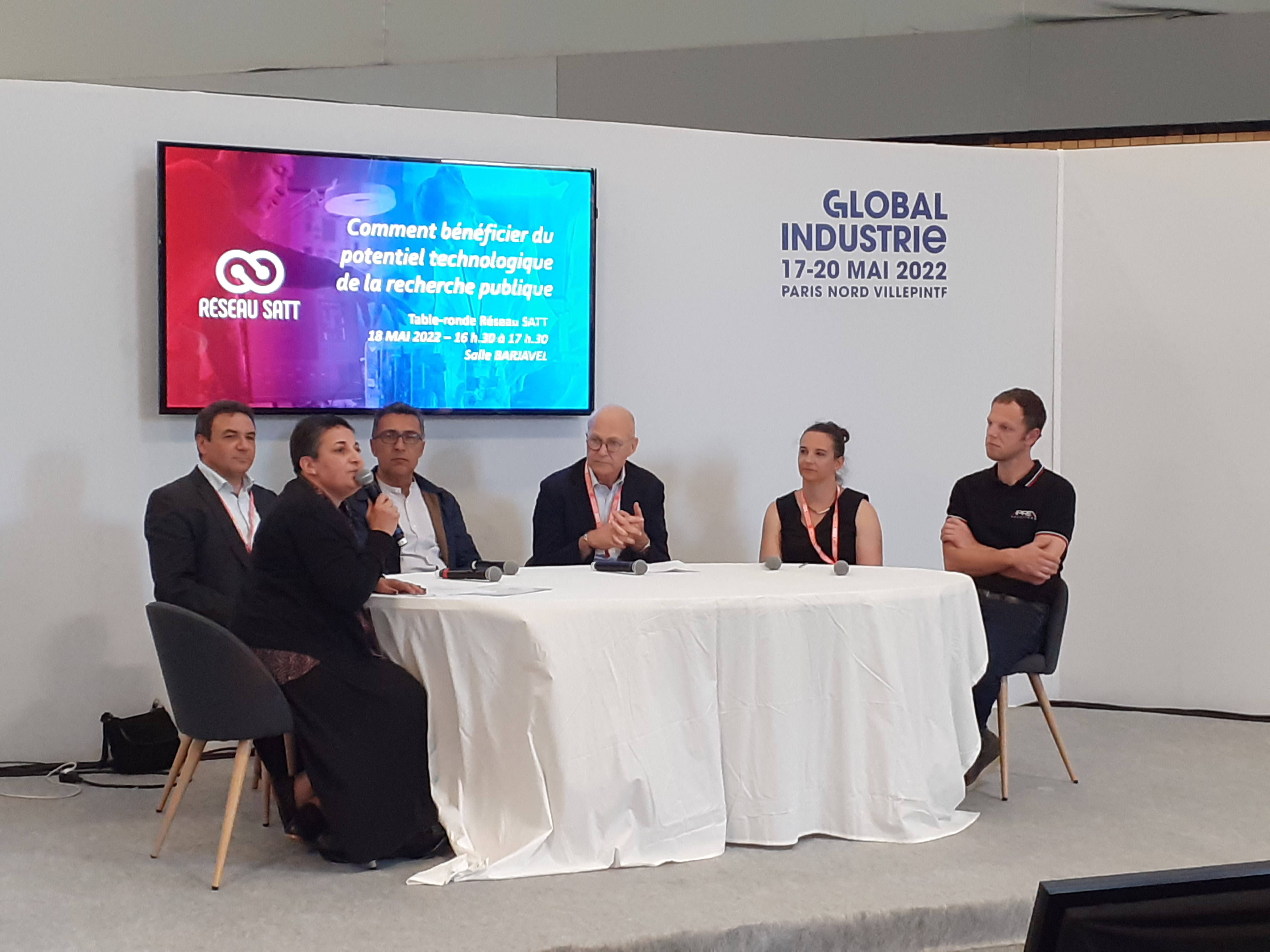 Conférence organisée par le Réseau Sayens :
Romain Baude, CEO et co-fondateur d'APREX y a apporté son témoignage en tant qu'entrepreneur et ancien chercheur issu du domaine de la recherche sur l'accompagnement constructif de Sayens avec le réseau SATT, dont APREX Solutions a pu bénéficier à ses débuts.
Lire l'article et voir le replay de la table-ronde
"IoT, mobilité, historisation des données, IA, expérimentation, RFID :
comment faire évoluer techniquement ma ligne de production ?"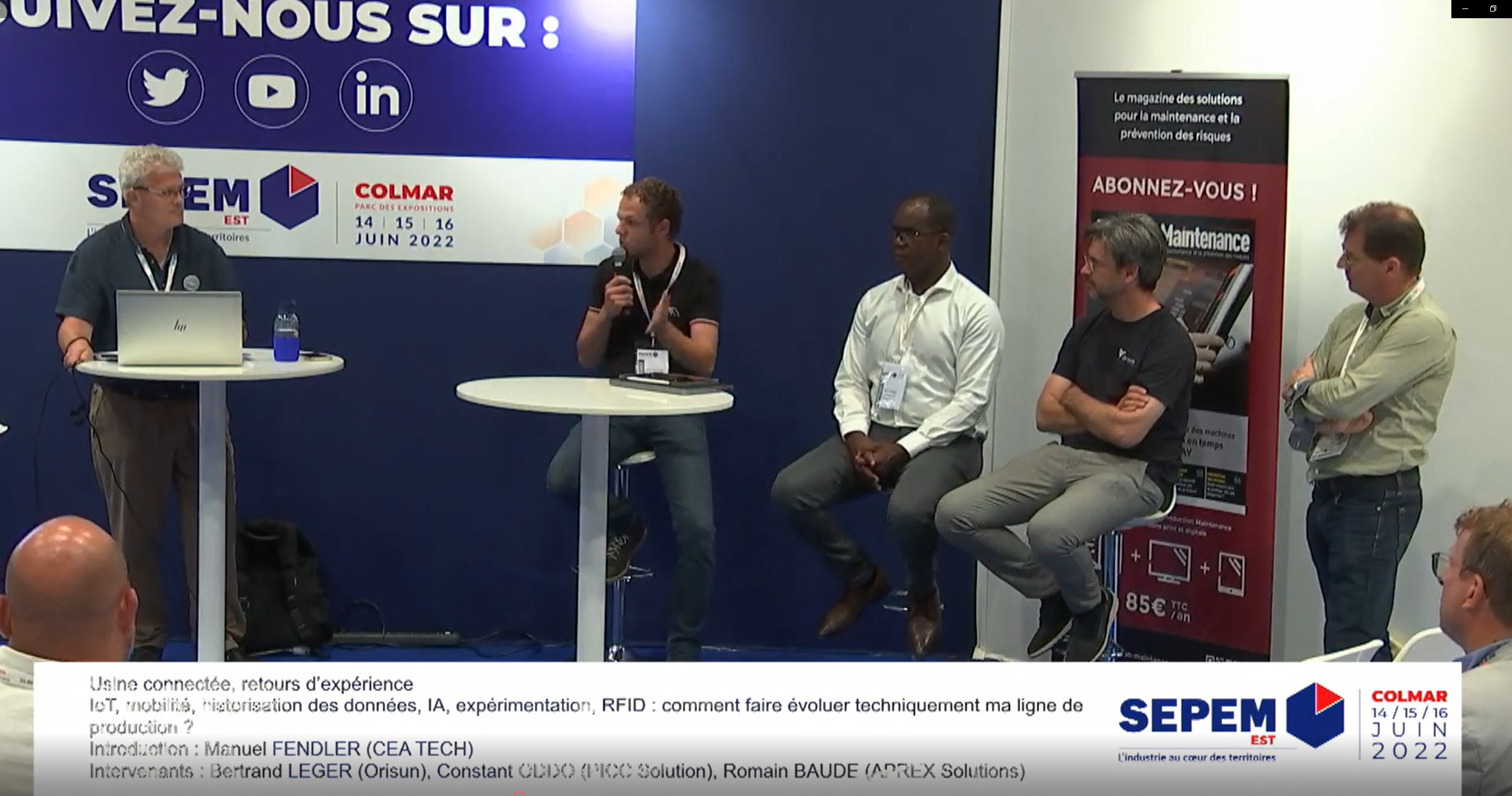 Une des tables-rondes organisée par la Communauté des Offreurs de Solutions du Grand Est : Voir le replay de la table-ronde

Voir les autres tables-rondes
"Ressources naturelles limitées : repenser l'offre client, les fabrications et les usages."
en savoir +
"Osez la transformation de votre industrie"
en savoir +
"Décarbonation, pénuries… il faut adapter nos industries"
en savoir +
Un vivier dynamique de partages d'expériences :
D'un côté les commerciaux et techniciens de la team APREX s'acculturent sur les techniques de fabrications. Leurs échanges avec les techniciens métiers, de différentes secteurs industriels : textile, verre, métal… leur permettent d'avoir une meilleure compréhension du contexte et des impératifs spécifiques à chaque fabrication.
D'un autre côté, le visiteur s'informe des nouvelles technologies et des dernières innovations en matière de contrôle par vision automatisé. Pour alimenter la réflexion de son projet, il a l'opportunité d'assister à nos démonstrations et de recevoir des explications didactiques, comme par exemple :
o Quelle application de vision pour quel type de contrôle,
o Quelle technologie d'intelligence artificielle pour quelle précision de détection,
o Pour quel contrôle envisager la vision 3D,
o Quelles sont les bonnes pratiques pour élaborer un cahier des charges de projet de computer vision ou de machine vision,
o …
Rien de tel, pour démontrer son savoir-faire que de l'illustrer par l'exemple !
De rencontres, en brainstorming !
Somme toute, chaque salon constitue une vitrine idéale où exposer nos domaines d'expertise à des publics parfaitement ciblés. C'est le moment privilégié pour rencontrer prospect, client, fournisseur et partenaire afin d'aborder concrètement les problématiques d'automatisation du contrôle qualité pour l'industrie.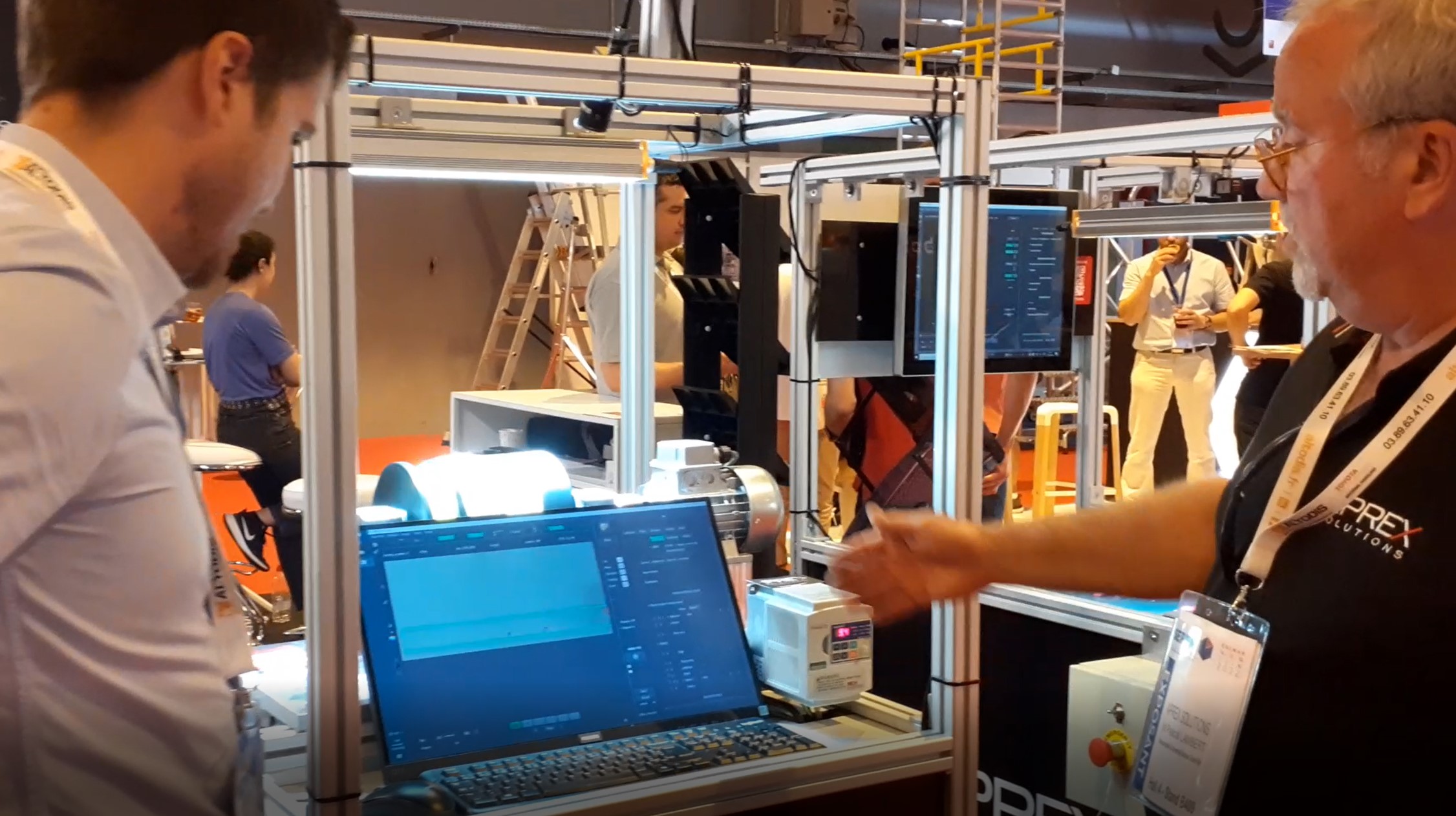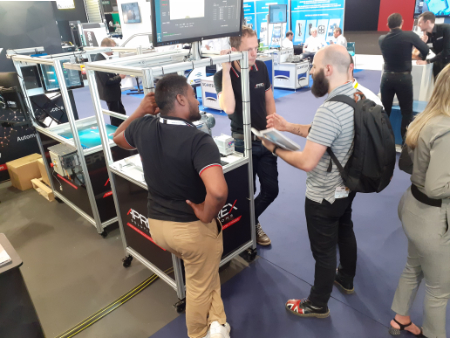 ... nos visiteurs sont responsables, ingénieurs ou techniciens Qualité, directeurs d'usine, responsables Innovation, acheteurs… tous partagent la même motivation de dénicher une solution, voire LA solution ou simplement d'alimenter leur veille technologique."
En mode collaboratif et interactif, des croquis d'installation de dispositif de vision sur chaîne de production se dessinent sur un coin de table. Des cahiers des charges s'ébauchent. Un vrai brainstorming !
Car nos visiteurs sont responsables, ingénieurs ou techniciens Qualité, directeurs d'usine, responsables Innovation, acheteurs… tous partagent la même motivation de dénicher une solution, voire LA solution ou simplement d'alimenter leur veille technologique.
Certains viennent spécifiquement sur notre stand pour nous soumettre une problématique de détection de défaut automatisée. D'autres passent « par hasard », poussés par la curiosité... ce qui, contrairement à l'adage, est un excellent défaut et fait bien souvent germer des idées.
Beaucoup repartent avec la matière nécessaire pour imaginer ou confirmer leur projet d'automatisation de leurs opérations de contrôles, comme par exemple :
Pour la détection de défauts, en continu ou discontinu, à cadence élevée ou en contrôle statique…
Pour le guidage robot : dévracage, palettisation-dépalettisation, assemblage, tri de pièce…
Pour le suivi des procédés de fabrication : bris d'outil, environnement, traçabilité…
Décourvir nos démonstrateurs :
- Détection de défauts à haute vitesse et en continu
- Détection, localisation, classification de défauts

Voir l'nterview tour de stand sur Global Industrie 2021
Nos démonstrations sur les salons leur permettent de se projeter pour revenir potentiellement vers nous pour une étude de faisabilité approfondie.
En conclusion, de salon en salon et d'une édition à l'autre, des liens se tissent, se renforcent, s'alimentent de nouveaux sujets, pour bien souvent devenir durables et même ouvrir de belles perspectives de collaborations.
Ainsi, les salons occasionnent de véritables opportunités pour répondre aux objectifs commerciaux, pour renforcer la notoriété de notre expertise et faciliter l'évangélisation de nos technologies.
Aller au contact permet de prendre du recul !
A bientôt sur les prochains salons pour découvrir nos nouveautés.