Focus on cap control at Solocap
Detecting tears and micro-tears on plastic caps of 40 different colors and shades, and running at high speed on a production line, such was the quality control objective, aimed by the company SOLOCAP Mab (1).
APREX Solutions has successfully met this objective.
SOLOCAP, on its Contrexéville industrial site, produces all types of plastic closures for the food sector, in particular a top-of-the-range screw cap, suitable for all glass or PET bottles.
Thanks to a ring of wings that can be clipped around the neck of the bottle, this cap allows an easy, quick, completely tight and secure crimping.
For this purpose, the fins must be systematically and reliably checked for cracks, tears and torsion during production, at a sustained rate.
Since the old system did not meet the new requirements, it was necessary to modernize the inspection process.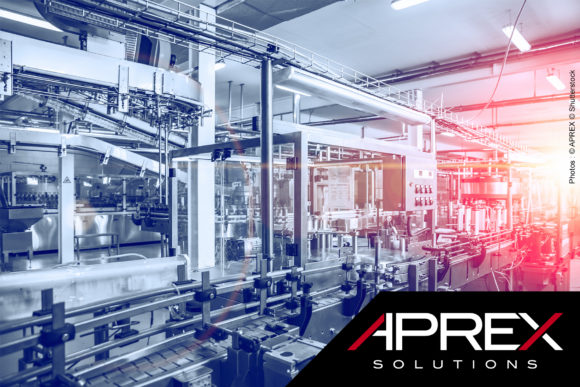 A concerted set of specifications
The specifications were developed in conjunction with the SOLOCAP team and we deployed our solution in two stages:
First, with our APREX Track IA solution, we created the specific application "bouchon-Solocap". This application interweaves different object detector, classifier and standard methods working at different scales to deliver a final compliance result.
That is to say, nearly 5 levels of controls, with multiple control points, which allow to reach a reliability rate on the result, higher than 99,99%.
In a second step, we implemented this application on the production line with APREX Track C&M. This allows to control its execution by linking an IDS Imaging(2) UI 3280 CP HQ camera, an Effiring efflux lighting and an industrial automaton. This also allows to record, in real time, the traceability data.
The excellent color rendering and 5.01 MP resolution with a frame rate of 26 fps allowed us to complete this project quickly.
Without requiring any specific development other than a quick training of the AI methods, the APREX TRACK software suite allowed us to obtain an efficient and scalable result, with ease.
Crossed testimonies
Romain Baude - Founder of APREX solutions
"The difficulty of this project lies above all in the very tenuous nature of the defects sought and in the multitude of colors. With our software suite it was possible to set up a vision application quickly. Despite its complexity."
Anthony Vastel - Technical and Industrial Director of SOLOCAP
"APREX's approach and their AI-based solution have opened new doors for our 100% vision control. Our requirements in terms of product security but also in terms of control of rejects and especially false positives were quickly met thanks to a dynamic team that listens to us. We are convinced that we can go even further by improving the efficiency of the system at SOLOCAP and by applying it to other production lines.
(1) SOLOCAP, located in Contrexéville, is a subsidiary of La Maison Mélan Moutet, "taste conditioner since 1880", a French family business specialized in the manufacture of closures for food packaging.
IDS Imaging, located in Germany, is one of the main players specialized in industrial cameras.